Aluminum Copper Radiator Recycling Machine For Sale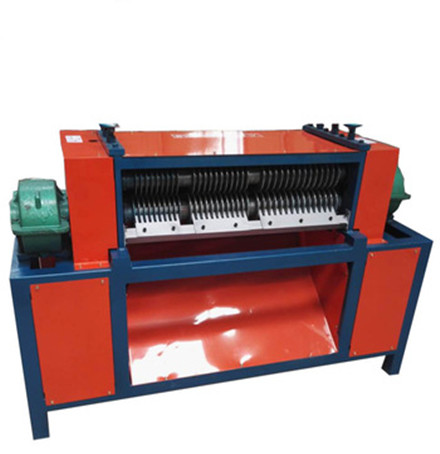 Aluminum copper radiator recycling machine here is a simple design but high efficient equipment for recycling waste radiators by stripping the aluminum foil from copper tubes, and then get double recycling of both aluminum and copper. This copper aluminum radiator recycling machine is a single-unit design with small land occupy size, easy to operate, but could make 100% recovery rate of aluminum and copper from waste radiators, low investment high benefit.
Working Process - Aluminum Copper Radiator Recycling Machine
From this video, you could check how waste radiators are recycled to get aluminum and copper through the stripping process. You'll find out it's a very easy business to start with.
Specification - Aluminum Copper Radiator Recycling Machine
Model
Capacity
Dimension
Power
Weight
Separation Rate
DY-850
500-600kg/h
1700*1000*1100mm
5.5kw
750kg
99.9%
DY-1200
800-1000kg/h
2100*1150*1100mm
7.5kw
1250kg
Advantages - Aluminum Copper Radiator Recycling Machine
Main advantages of aluminum copper radiator recycling machine
With the PLC control system, it could make the PCB recycling machine fully automatic with stable performance, easy to operate. And the PCB recycling machine is designed with integrated type compact structure which could save land occupy size and easy to install. Further with the on-the-spot installation, commissioning and operation training service, it would avoid your trouble on installation and operation. During PCB recycling process, PCB would be firstly shredded or crushed, then sieved by rotatory vibrating screen and separated through air separation and electrostatic separation, which could achieve the recovery rate to 99.9%.
Company News

Industry News
A: Car radiator separators price is mainly decided by the input radiator shape and the processing capacity.
A:car radiator contains precious mental copper and aluminum,so it can be recycled and car radiator recycling machine is profitable.
A:radiator tank separation machine is designed to process scrap aluminum copper radiator and it is easy to operate.